Let's not fool ourselves; the so-called surveillance (act of tracking people) are a fundamental and totally legal part of the private investigator's work. Today we are going to talk about it a little bit.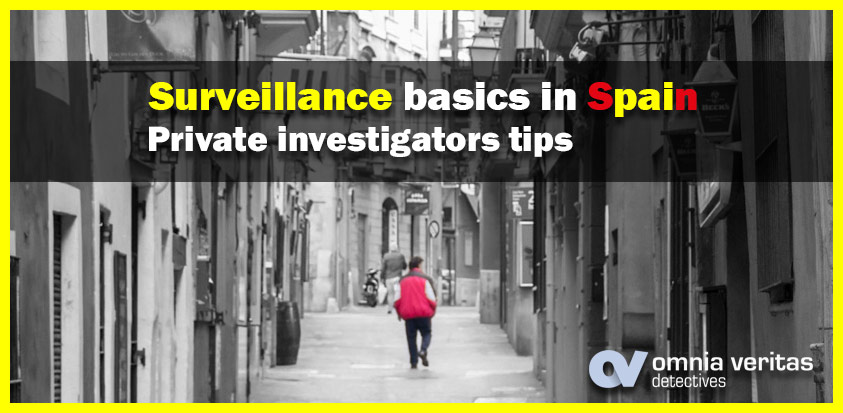 The truth is that today I was surprised thinking about how little we have talked about tracking people in this blog considering how important they are to the private investigator's work and the amount of time we invest in them.
People tend to identify P.I. as surveillance pros and seem to believe that we are only dedicated to this. Which is not entirely true, but they are not so misguided either.
When do private investigators actually surveillance?
Surveillance is the Swiss knife of private investigators, it works for everything, and to a greater or lesser extent you end up using it in almost all kinds of services.
Let's see the most common ones:
Follow a couple with infidelity problems
That comedy movies private investigator who hides behind hedges, trees, and lampposts is the classic image that comes to mind when we talk about private investigators following couples kissing in the moonlight in Central Park.
Honestly, there are not usually romantic walks at dusk, but rather adventures running at noon or at the time of going to the gym (they come back sweating of course). And romanticism is rather little, especially in public.
Investigating infidelities is more a matter of day than night, opposed to what many people think and are not, at all, the simplest investigations. The person accused of infidelity, whether he is or has been accused many times not being one of those, always leaves looking over his shoulder in case someone is following him.
Obviously this is accentuated if the encounter with his lover is imminent, so it is essential to have experience before dealing with these charges and to always be clear that it is better to abandon the tracking than to be detected.
Surveillance on workers during their work day
It is a much requested service, especially with dealers or commercial agents. Follow a dealer throughout their day and see where and what is he doing is a particular type of tracking. It takes many hours and the investigated is used to watch his back when he stops to do his job.
Tracking commercials is usually simpler, especially because, in practice, when we are ordered to follow them is because there are suspicions that they lose a lot of time and that's usually the case. We used to follow them to the snack bar, at work, and even to their house.
Surveillance in fake illnesses
It is the classic task that we do to both insurance companies and the companies where they work. The issue of fake illnesses is a real problem for both companies and the nation.
One would think that given the high cost it has for the state (meaning, for you) would be much better controlled. Well, no. It's a disaster wherever you look at it. Whether they take care of it at the private level or don't act at all.
Some will think that saying this is to situate myself "against the doctors" and nothing further from the reality; medical professionals are the first to hire us for these issues at the private association level. Generally the private association of the social security will hire you when there is a suspicion of the exaggeration of symptoms on the part of one of your doctors.
About what you find when you follow them… Well you can expect pretty much everything. I think I've seen more physical prowess on the part of "sick" people than in the Olympics. Some of them Medals deserve, although I won't say for what.
For one thing or another … almost always
In mercantile investigations, in locations, in divorces, in … In the end, at one point or another, you almost always end up following someone, so identifying "private investigators" with "follow-ups" is pretty accurate.
Types of surveillance and their legality
There are three basic types of follow-ups, two of them totally legal and one almost totally illegal:
Surveillance on foot
It's very common in the central areas of large cities and as the beginning and end of almost all surveillances. The correct management of distances and not losing sight of the investigated in large crowds of people or when turning corners are the keys to this type of monitoring.
Vehicle surveillance
Following vehicles in motion is an indisputable part of our work. Experience, ability in driving, knowledge of the area and a bit of luck in the traffic will be essential factors in a motorized tracking.
Although they are moments of greater tension, the car provides us with protection and discretion to record more easily.
Electronic or computer tracking
Drones or Quad copters
Ideal to follow someone who moves within a field of model aircraft, because in all other situations or are questionable legality or directly illegal.
The low battery life, the interference caused by the Wi-Fi networks in the houses, the total prohibition of recording over inhabited areas or their lack of zoom, means that the monitoring of people using private drones is now pure science-fiction.
They can be useful and legal tools in some circumstances, such as when the investigator is traveling on a yacht along the coast or hiking the mountain, but they are far from being the universal panacea.
GPS or magnetic GPS
They are those GPS locators that, subject to a magnet or similar to a vehicle, transmit via the phone and in real time the location and transfers this information to you.
Doubtful legality
Recent legal modifications make the previous jurisprudence to be challenged so that even complying with the basic criteria of proportionality and efficiency; it is not at all clear at the present time the legality of the use of these devices by private investigators.
Total inefficiency
A GPS locator indicates with greater or less precision the location of a vehicle but rarely the private investigators follow vehicles, we follow the people who go inside them.
It is enough that the person investigated doesn't take that day the car so that our whole plan end-up ruined, or park in a busy area and leave the vehicle before the investigator arrives to make it a lost day.
Tunnels, underground car parks or areas with poor coverage can give rise to confusing signals that mislead more than help.
Abuse by private investigators
There have been cases in which clients have commented on the real barbarities of research reports made only on basis of GPS locations.
Very comfortable, yes, just to wait on the sofa at home watching Ana Rosa Quintana, until the car move and just get positions from the GPS with total recklessness, then say that this or that person moves inside that car. Total shame for the profession.
Fleet Control
It would be the exception to the uselessness and illegality of GPS tracker, the typical fleet control of freight vehicles or commercial business vehicles.
In these cases, where the tracking is so long, it is advisable to leave the service from time to time and take it back after a few minutes or to follow the vehicle out of sight and approach only when it deviates from the established route.
Here it is legal or useful to have access to the GPS, as long as its use has been communicated to the workers before.
Spy programs to locate people
Few things breach more laws than this, from the protection of the privacy to the protection of the integrity of the communications.
If anyone still doubts the legality of controlling their partner through a spy program on their mobile is because is trying to ignore the law, effort that can be rewarded with a long prison term.
If in addition to spying on your partner you are a man, you are going to have it really hard and you won't get rid easily of a harassment crime.
Basic techniques for effective follow-up
We will see, at the basic level, some of the techniques for a follow-up to be effective.
Phased tracking
It consists of not following in the first instance, but on the first day you just collect data of the type to make sure which car they drive, see which direction they usually go, take a brief follow-up to see what their driving style is, etc.
Personally, I use it almost always in labor issues or in which "data is missing," and it is not a lost day at all, but, on the contrary, results in greater final effectiveness and a significant decrease in the risk of being hunted.
Camouflage in the environment
Apart from dressing as the people of the area where you are dresses, camouflage is more a matter of attitude and forms. It matters less that they see you, that they see what you are doing.
An inquirer can see you a hundred times and never suspect you or see you and know for sure what you do.
In these matters the attitude is primordial and it is not the same thing to see someone who seems confused and careless that someone in constant tension watching your movements.
Distance management
Knowing when to get closer and when giving space is the key to a good follow up. The experience and recognizing your targets help to know when is the right time to be close and when it is convenient to give people space.
The focused sight
This has happened to all the private investigators: following someone to 10 meters and when turning a corner has disappeared like magic.
If you don't want to get "abduction" cases of this style you should try not to lose sight of the person you follow. Sometimes it is not enough to know that you have entered that bar, because that bar may have an exit that you do not know.
Most of the time you lose someone is "just when you did not see it." Minimize those moments.
Following someone is easy; the difficult thing is that they do not detect you
This is the crux of the matter. Following someone and not losing it is easy, just don't get far from their buttocks, the key is to do it without being detected.
It must be always clear that "losing someone" is not the worst thing that can happen to you, you could have lost the day and something you have learned from the places where the person goes and how it moves, but that's it. If you lose him always there will be another day to not lose it and maybe you get it thanks to the previous loss, If they detect you, the investigation will be over in 90% of the occasions.
Making mistakes is part of the learning process, and losing someone is part of collecting information.
In that way, if they detect you is the end of the experiment as you know it.
If you are not sure that the person detected you, let him leave, and you will follow him another day or later.
Advanced counter-surveillance techniques
Do you want to detect if a private investigator follows you?
It's very easy; you just have to … ups I ran out of space. We continue another day, or maybe not.
The following two tabs change content below.
Director en Omnia Veritas y detective privado con licencia 2265. Tel: +34 686 669 705 GM of Omnia Verita and private investigator. Cell: +34 686 669 705
Latest posts by Fernando Mairata (see all)