Today we're going to talk about how journalists in this country routinely use misleading headlines to get attention without caring about the consequences. As I just did.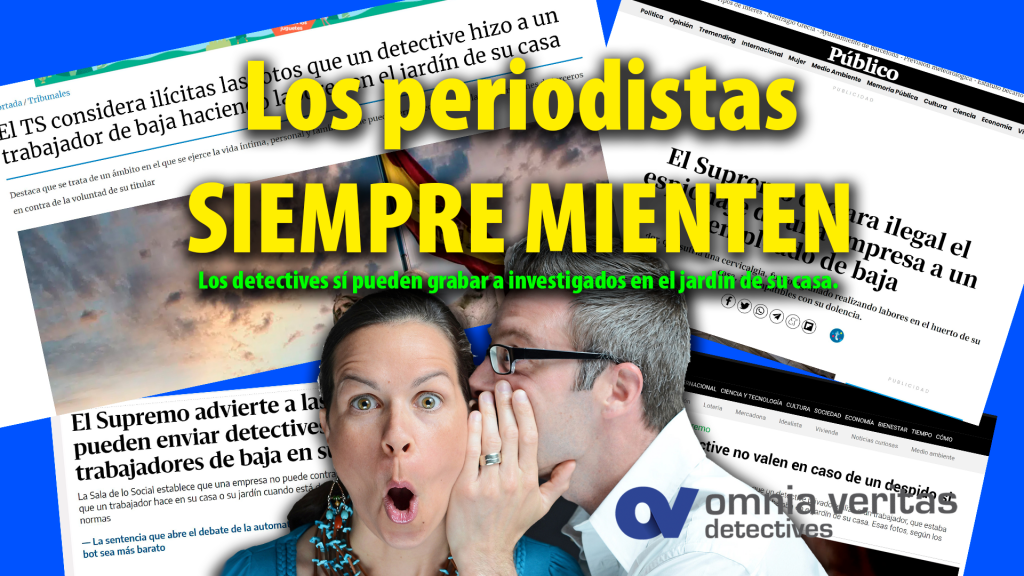 As an example of this fact, I will refer to the headlines The case of the nullity of a dismissal in which the worker had been filmed performing tasks of a company in which he had been a member of a group of employees. gardening in the garden of his house by a private detective.
Published headlines
The four champions:
"Supreme Court warns companies: they can't send detectives to spy on workers on leave at their homes" Eldiario
"The photos of a detective are not valid in the case of a dismissal if they are inside the house" La Sexta
"Supreme Court declares illegal a company's spying on an employee on leave" Público
"Supreme Court declares it illegal to spy on workers on sick leave at home" deia.eus
Inaccurate
"The SC considers unlawful the photos that a detective took of a worker on leave doing chores in the garden of his house" Confilegal.
"The Supreme Court declares unlawful the photos that a detective took of a Galician man on leave working in his garden" La Voz de Galicia
"Supreme Court considers unlawful the photos that a detective took of a worker on leave doing work in his home garden" LegalToday
"The Supreme Court considers unlawful the photos that a detective took of a worker on sick leave taking care of the garden of his house" Diario de Sevilla
"Photos a detective took of a furloughed worker doing chores in his yard are inadmissible" TheDigitalLaw
My opinion about these "journalists
The four champions disregard facts and reality when it comes to writing their headlines, looking for mere scandal and for the "outraged worker" to click on it. Or better yet, share it without reading. Why read and be informed if you can have an opinion?
Moreover, why should the editor read the sentence if he is not going to understand it and can make up something based on summaries of what he seems to have read in other media and his audience will act in the same way?
We detectives need a degree and professional certification, without being able to use 300 euro interns to write us briefs, do they too?
Regarding the "inaccurate" comments, I understand that space is limited and that a headline is not enough to go into detail. Headlines are not to explain but to state a content. Even so, they could make an effort and try to work on the headline a little more. Here are some suggestions:
"In this sentence the detective's evidence has been annulled, find out why!"
"The SC annuls the evidence of a detective for not proving that it was obtained in a lawful manner".
Sometimes we have to work a little harder and think about the consequences of our actions, whether we are detectives, journalists or in any other profession. In the end, all jobs, whatever they are, end up affecting third parties.
Detectives are allowed to videotape subjects in their backyard.
There is numerous rulings in this regardWhat makes this one special is that the Court considers that it has not been duly proven that the images were taken from the outside and that the layout or lack of visual barriers in that garden did not give rise to a reasonable expectation of privacy.
This is stated in this paragraph, the key to the outcome of this ruling:
"it does not appear that, in the present case, the worker's garden was visible to anyone who might pass through its vicinity, nor that there were no walls, hedges or fences of any nature that would make visibility from the outside difficult".
Herein lies the difference between this and other rulings in this regard and is what makes it not incompatible with the myriad of rulings in which similar evidence is admitted.
How to prove that it has been obtained from abroad?
In our agency, when there is an image or video recording of the investigated person in a garden, balcony or similar, we follow two rules:
If it is not essential, do not use it.
This is the criterion of necessity. If we already have sufficient evidence of what the client needs in other recordings or photographs, we simply do not include them in the report because they are not necessary.
If they are necessary, please prove it conveniently.
When there is no other less invasive way to demonstrate the conduct we require, we make it very clear in photographs and videos that these images have been taken from public roads, without scaling, and that they are visible to any passerby walking in the area, so there is no reasonable expectation of privacy.
Graphically it is really simple, just take a picture from the other side of the street where there is a direct and normal line of sight, and you have it credited. From now on I will also include a link to Google Street View or a screenshot from there so that there is an additional means of contrasting the veracity of what has been affirmed.
Suggestions for manipulative journalists
As a bonus I am going to leave you a couple more headlines that, without being false -which you might not even value- can help you to get more clicks:
"Real Madrid partner is cured of cancer".
"Vaccinated Covid employee wins the Christmas jackpot".
"He wins the primitiva and shortly after his mother-in-law dies".
"After drinking a Coca Fola he has a traffic accident".
"They find 20-euro bills lying on the ground in Valencia".
So, second-rate journalists, if you liked it, please like, subscribe and share it with your brothers-in-law. Does anyone remember the issue of cross-checking information?
Best regards,
The following two tabs change content below.
Director en Omnia Veritas y detective privado con licencia 2265. Tel: +34 686 669 705 GM of Omnia Verita and private investigator. Cell: +34 686 669 705
Latest posts by Fernando Mairata (see all)