There is a clear parallelism between private investigators and illusionists, both professionals don't want to divulge their secrets. They would have to kill you.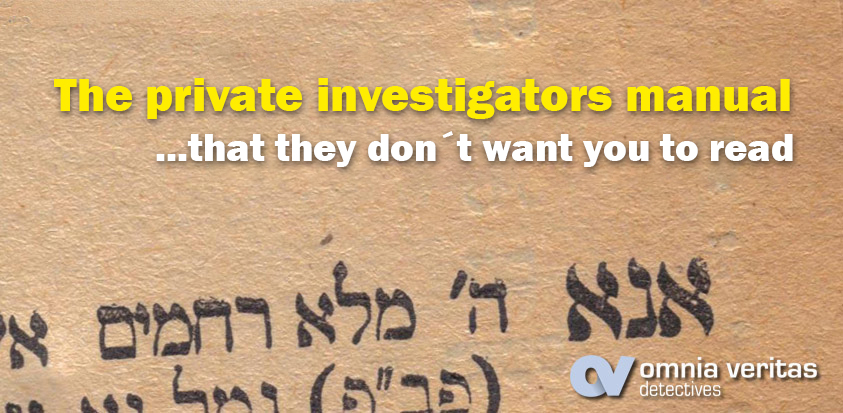 There are many interviews and disclosures that have already been made of the secrets of the investigator's profession. Videos about the gadgets we use, pictures of our hidden cameras and there is always some desperate willing to count the tricks he uses (generally pretty cheap and inappropriate) to appear 30 seconds on television.
I'm going to go one step further into the abyss and I'm going to talk about the manual or manuals that will allow you to work as a private investigator does.
The private investigator basic manual
It's sold in almost all specialized bookstores and has the title "Spanish Constitution". The original has a eaglet on the cover and is signed by the King himself. You don't have to get that one, a copy is enough. If you haven't read it I recommend you to do it; it's short and although it's out of phase according to which points (not many) if you don't know it even a bit, dedicate yourself to something else.
"Damn, this post is messing with me"
No, dear reader, this post is very real. If you find others with similar titles those are messing with you for real. Posts, videos, super-specialized courses made by spies so professional that they go and tell it and other stuff that you can find on the Internet.
Let's go by the following recommendation.
The corporate investigators essential manual
Can we record our employees at their job without warning them? If I have a low-income worker and I see him in the town festivals running like crazy can I fire him?
The basis of the answer to these questions will be found in a book called "Workers' Statute" in Spain and Labor Laws and employee benefits in U.S.
Some treat it as if it were the Bible, full of universal truths. It should be remembered that in law there is nothing absolute, or almost absolute, and that a big part of the legal dilemma consists in assessing whether one right or another prevails.
Therefore, as with computer programs or mobile apps, it should be upgraded from time to time. Or rather update us depending on the case of jurisprudence that goes appearing.
Not everything is investigating infidelities; much of the work of an investigator are corporate investigations, and the one that most knowledge required.
The manual they don't want you to have at University.
What they don't want to give you under any concept is that all those subjects that you are studying about "criminal profiles", "ballistic analysis" and similar you are not going to use them in your life at all.
Sorry, false.
Yes, you can apply them to brag and tell bullshit at dinners to your friends.
I bet if you tell them the reality of your work, that you spend sometimes 12 hours in a car to record 3 minutes of video and then 3 hours more editing it on the computer and writing the part of the day you fall asleep; they won't invite you anymore. You are the boring one of the meeting, the one that everyone looks like "poor little thing…"
Talk about the marks left by a gun if you shoot it at point-blank range or how to use the Superglue to get fingerprints. You will be cooler and the University will be very happy with you, just as another victim falls to them, who pay without knowing what he is paying for.
I like "what our job really is", it gives me great intellectual pleasure to know that this guy who was calling in sick for back pain and was carrying potatoes bags ended up unemployed, or to know the guy who had been left far away loaded with debts and believed to be safe, was receiving a judicial notice in the morning.
If you don't like that, don't be a private investigator because this is what we really do in our job.
The real private investigators secrets
"Shhhhh, don't tell anyone …"
The great secret of private investigation is that there are no shortcuts or possible works poorly done. We must study a lot, and especially study properly, to keep abreast of the legal developments that affect our profession.
Work, work and more work.
No shortcuts or magical courses of specialization.
The surveillance and the special cameras stuff is the easy thing, you can learn that in a few months of work in the street. It's just the fun part, 5% of the difficulty of leading a private investigator agency.
What really annoying is to know what or how to get it without jumping the law and how to translate it into a useful and valid report. And no, I won't teach you that in a post; that can't be taught in a post, not in a book, nor in a "Super-Advanced Course".
That takes a lot of work, many hours, many days and many months of breaking your back.
And there are no shortcuts.
The following two tabs change content below.
Director en Omnia Veritas y detective privado con licencia 2265. Tel: +34 686 669 705 GM of Omnia Verita and private investigator. Cell: +34 686 669 705
Latest posts by Fernando Mairata (see all)
Summary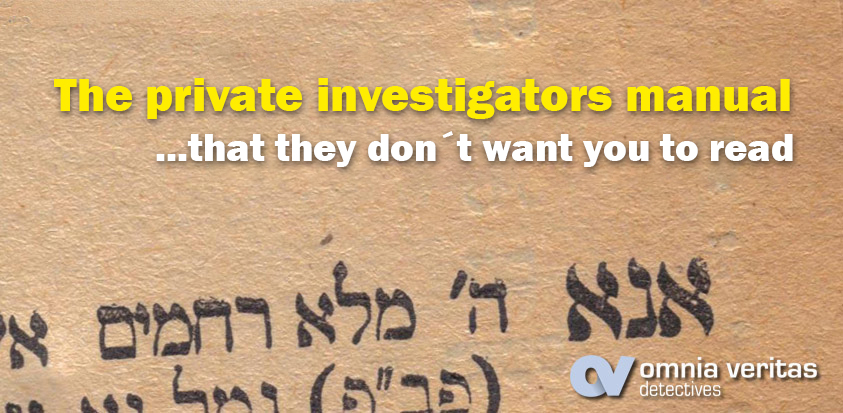 Article Name
The private investigators manual that they don't want you to read
Description
There is a clear parallelism between private investigators and illusionists, both professionals don't want to divulge their secrets. They would have to kill you.
Author