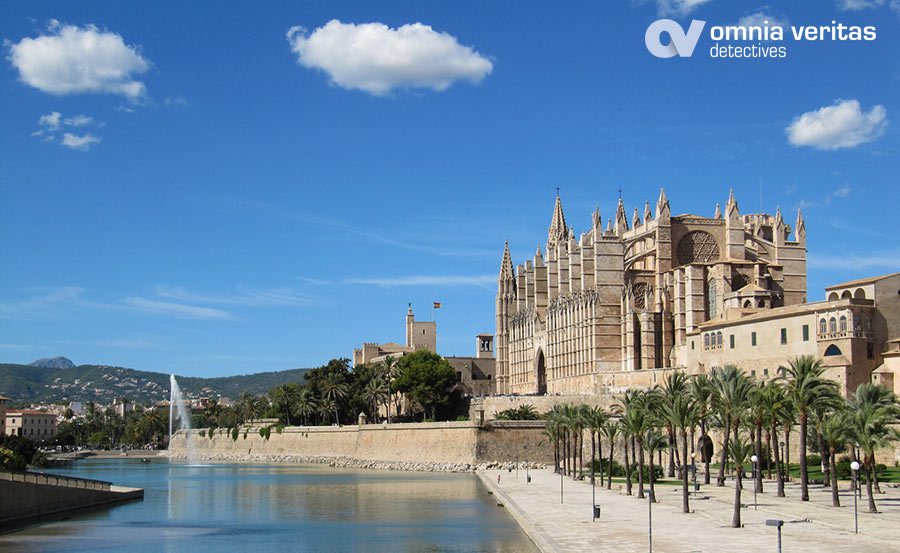 Private Investigators in Majorca
Omnia Veritas, private detectives, was founded in Palma de Mallorca and has grown to the point of being able to provide service throughout the country with the same level of quality and reliability that has enabled us to achieve a growing reputation all over the island.
Our dealings with the client and our perfectionism when translating our investigations into investigation reports has led us to achieve a growing client portfolio, which we would like you to join shortly.
Hire a modern and efficient private detective service focused on meeting your needs for information and evidence with absolute respect for the law.
You have the guarantee of years of experience and the certainty of having our professional and personal commitment to solve your problems, whether simple or complicated, with the utmost effort and dedication.
From the headquarters of our detective agency in Palma de Majorca we offer all kinds of investigation services, although the most highly demanded are the following:
If your partner resides in or regularly travels to Majorca, with friends or on business trips, our private investigators can inform you of all their movements in the area: places they visit, timetables and the company they frequent. With this information, true and evidenced by numerous videos and photos, you can find out if their behaviour is appropriate.
Stop suffering thinking about what might be happening; verify it in a precise and professional way. Our team of detectives in Mallorca will keep you informed of the situation in every detail.
In recent years the number of people hiding in places like Palma de Mallorca, Calvia, Llucmajor, Andratx, Alcudia, Manacor and other tourist areas, where the large number of foreigners, both residents and visitors, makes them go unnoticed, has grown alarmingly. If the person you are looking for is in Mallorca, our team of private detectives will find them and provide you with evidence of their place of residence.
If your partners, suppliers or clients are in Majorca we can offer you the information you need for decision-making. Our team of private investigators and mystery shoppers will provide you with the information from the site. Do not rely blindly on the information you are given; double check it with our investigation service.
If you want accurate information, hire Omnia Veritas. Our team of detectives is reliable and efficient and our sales team will serve you personally, 24 hours a day, before and during the investigation.
Call us now!
Call on + 34 686 669 705 and we will personally help you according to the information you give us and provide you a quotation as accurate as possible.
We answer the phone 24 hours a day in Spanish, English, German and Italian.
Majorca private detectives Mallorca | Keywords
Majorca private investigators agency, Mallorca detectives, Majorca private eyes, hire a private investigator in Majorca, Mallorca private investigators agency, Cheating in Majorca, locate people in Majorca, Mallorca skip tracing services, Palma de Mallorca private detectives, Andratx detectives, Portals detectives, alcudia private investigator, Magalluf, Punta Ballena, Palmanova.
The following two tabs change content below.
Director en Omnia Veritas y detective privado con licencia 2265. Tel: +34 686 669 705 GM of Omnia Verita and private investigator. Cell: +34 686 669 705
Latest posts by Fernando Mairata (see all)